Benefits of Custom Garage Doors
Custom garage doors are both decorative and functional. They not only enhance the aesthetics of your property. But they can also offer increased security! Getting a custom door installed may seem like a time-consuming task, but it is still a option. Well worth your time! Because there are many advantages of getting a custom garage door installed.
The benefits of custom garage doors are immense but here are the top benefits of installing one:
They Are Durable
One of the main reasons why people opt for a custom garage door or a custom iron fence is that they are resilient. There is nothing better than having something that is long lasting and durable. And that is where custom garage doors come in. A sturdy garage door will better protect your vehicles, & other belongs. Furthermore, Custom garage doors offer owners a higher return on investment. Because they will withstand the test of time. In addition, a high quality door is more energy efficient. Saving you money! A superior garage door that is built to last.
Custom Garage Doors Available in Different Styles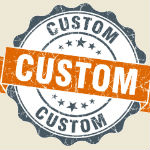 Custom garage doors are available in a wide range of designs and styles. New and replacement garage doors should complement the existing exterior of your property. With a custom garage door, you can design a look to suit your personality and make your residence stand out in the neighborhood.
The chances of you getting a unique style with ready-made garage doors is slim. However, with a custom designed garage door you will be able to create and merge different styles for a distinctive appearance. In addition, you can choose from a variety of materials that alters the appearance and cost. Because some materials require more maintenance than others, this should be considered when choosing the style of your custom garage door.
Great Fit and Finish
A custom garage door is crafted to specifically fit your garage. Irrespective of the garage door you choose, it will fit your existing structure perfectly. Consequently, you're more likely to get a better long-term value and extraordinary performance with a custom garage door. Cheaper ready-made garage doors will not achieve the same high standards of operation. When you invest in a high-quality custom garage door built for your residence, you combine unique beauty and durability.
Higher Resale Value
Your home will remain a valuable asset if you choose a custom garage door. Custom garage doors are a great choice of a major home improvement to add value. A garage door represents a great amount of front elevation space of your property. A quality replacement door will dramatically change the look of your home. Also, custom garage doors increase the resale price of your house and add more to the resale value of any property. Moreover,
it also improves the curb appeal and first impressions for potential buyers.
Custom garage doors have a high resale value, great curb appeal, amazing style, and they are nonetheless durable.
Need help finding the perfect custom garage door for your residence? We at Sentry Garage Door company work with homeowners throughout the Houston area with installation and repair service. Call us today about your custom garage door needs.