Things to Consider When Choosing a Tomball Garage Door Supplier
If you're in the market for a new garage door or gate, there are several things you need to take into account. The first thing you'll probably consider is the cost. A big part of cost is choosing the right Tomball garage door supplier… It's important to get the utmost value for money; you want a quality garage door, but you don't want to break the bank to get one.
There are certain things you can do to cut costs without having to compromise too much. Wood doors, for example, tend to be quite expensive, but you can find a Tomball garage door supplier who sells cheaper aluminium or steel products. Products that are designed to resemble wood and are very convincing at doing so. In fact, these may well be the best choice, for as attractive and rustic wood look. It does take a lot of maintenance to keep looking classy.
Tomball Garage Door Supplier Advantages Of Steel
Steel also has the considerable advantage of being unaffected by the heat; we all know that it can get pretty hot in Tomball over the summer. Aluminium doors also fine, but it doesn't take a lot to dent it.
Fiberglass is gaining popularity for being lightweight and having a neat, translucent look, but if it gets cold over the winter there's a real danger it could crack. And Just be wary of any product that is ludicrously cheap- it looks too good to be true, it probably is. Garage doors are of course a pretty big investment, and you'll want to buy yours from a trusted Tomball garage door gate supplier.
How About Looks?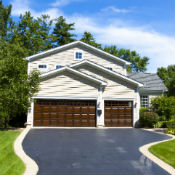 It's important that your garage door looks great, of course, but you have to take into account how it will work in practice. It has to open and shut, and if you pick a mechanism which doesn't work within the space you have, you're in trouble. If your garage has a low ceiling, for example, you should go for a side hinged door, which doesn't take up as much headroom as a sectional one. If your garage is limited in space more generally, get a roller door.
While it will add an extra couple hundred onto the price of your door, you should also consider investing in an automatic garage door openers. These come with all manner of neat pieces of technology, including important safety features. You can buy ones which stop closing automatically if they notice there is something in the way, as well as ones that have a key code lock system, meaning nobody can enter without the magic four digits you have chosen.
Tomball Garage Door Supplier For More Than Just Garage Doors
Picking the right driveway gate is a similarly important decision. The rules for materials are the same as they are with garage doors; wood looks nice but is hard work to upkeep, and steel is the best all round choice. You can get either an automatic or a manual gate, with an automatic gate being more convenient but also much more expensive. A sliding gate is a more sensible purchase than a swing gate because it's tougher and will endure much more wear and tear. Driveway gates are pricey purchases, and are most important when you've got a property that requires the extra security. However, an impressive, sturdy looking gate will add some value to your house, so if you ever end up moving, you may end up recouping some of the cost of buying the gate from a reputable Tomball garage and gate supplier.
When buying such a significant purchase for your home such as a garage door or driveway gate, it's important to make an informed and pragmatic decision. It's great to have something that looks great, but if it doesn't suit the way your house is constructed or is made out of the wrong material, it could become a real headache for you down the line. Shop around and you will find us to be your best Tomaball garage door supplier choice. Call Sentry Garage Door & Gate today!